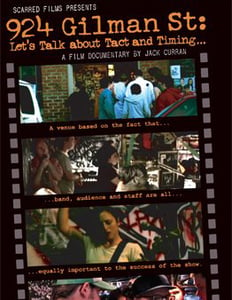 $

15.00
Film Documentary by Jack Curran
924 Gilman St.:
"Let's talk about tact and timing..."
DVD (2008)
Wide Screen, Color
Runtime 86 minutes
Extra Features:
Classroom Version, Extra Footage
Shipping and tax included.
Synopsis: This is a film documentary about 924 Gilman Street, the fabled non-profit all-ages club in Berkeley, Ca.Director Jack Curran celebrates the efforts of the volunteers who built and have maintained the club over the last 20 plus years.The Club is based on the fact that bands, audience and staff are all equally important to the success of a show.Live performances are included in the film, but the focus of the documentary is primarily on the inner workings of the club as told by volunteers and performers.
More About the Film:
ScarredFilms.blogspot.com
DreamMilitia.blogspot.com
ScarredFims.myspace
ScarredFilms.com
Your purchase supports the Film Maker and The Club...
Sales from this film benefits the Club, portions of the proceeds will go directly to the 924 Gilman St. Collective.
Contact the club:
Alternative Music Foundation PO Box 1058, Berkeley Ca 94701
924 Gilman Street Project Website